Origins
The Waverly Hills Sanatorium is located in Louisville, Kentucky and its construction began in 1908. By July 26, 1910 the Sanatorium began to accept Tuberculosis patients. Over the years the Waverly Hills Sanatorium became a city in and of itself. As many large hospitals were in their heyday.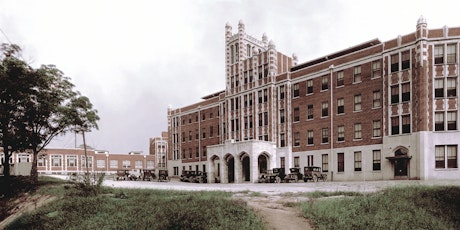 Operating History
By 1926 a brick sanatorium had been built that was meant to house 400, or so, TB patients. The sanatorium closed in 1961 and was renovated and re-opened in 1962 as a geriatric facility. It operated as such until is was closed in 1981. (therealwaverlyhills.com)
Ghosts
According to prairieghosts.com there is a ghostly little girl who likes to run up and down in the third floor solarium. A small boy who carries a ball has been reportedly seen as well. How about witnessing a ghostly hearse pulling up to the back of the building to drop off ghostly coffins? That would make my hair stand on end.
An apparition of a woman with bleeding wrists has been seen and heard crying for help. There have been reports of the spirit of a man dressed in a white coat seen walking in the kitchen. Cooking can be smelt in the kitchen and cafeteria specifically the aroma of freshly baked bread. The Waverly Hills Sanatorium is known for the sound of footsteps and doors that close on their own, often by slamming shut.
Ever tried an escape room? Check out this one in Louisville
Legends of the 4th and 5th Floors
Room 502 has seen tragedy in the past. It is said that in 1928 a nurse who worked at the Waverly Hills Sanatorium hanged herself in Room 502. While in 1932 a nurse working in Room 502 fell from the roof patio. It is not known if the nurse jumped, or if she was pushed, to her death.
According to prairieghost.com the 4th floor is the area with the most activity witnessed during a tour they took. Doors were heard slamming from the section of the 4th floor that is too degraded for humans to enter. Prairieghost.com reportedly saw a "clear and distinct silhouette of a man cross the lighted doorway, (it) passed into the hall and vanished into a room on the other side of the corridor."
Cheers,
The Other Half
Please follow and like us: