The Black Mirror TV series is available on Netflix for your viewing pleasure, or maybe I mean for your viewing discomfort. Let me explain.  Black Mirror is described as a science fiction anthology programme. Each episode is a stand-alone work that takes the viewer into a different world or time in the future and makes the viewer consider both the impact and the consequences of technology on humanity. (wiki.com)
The first episode involves the kidnapping of a British Princess and the stomach-churning ransom demand that the British Prime Minister must have intercourse with a pig on live television. Yup, you read that right. Things just get more complicated from there. But talk about a hook. I found myself on the edge of my seat wondering what the heck will happen next. Yet,  I could not help but sympathize with all involved and wonder if this will be a new type of terrorism in the not too distant future.
There are three series worth of Black Mirror on Netflix currently with a fourth series coming out December 29, 2017. So get watching if you haven't had the discomfort of doing so already.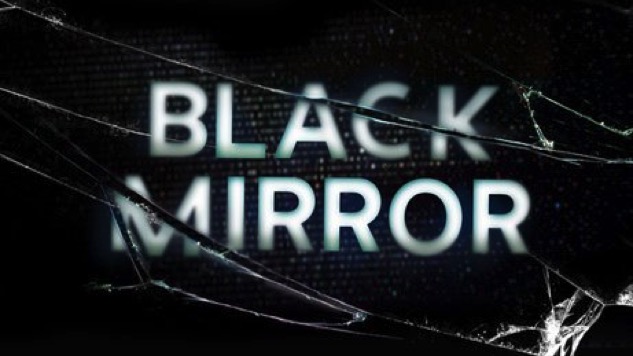 Black Mirror TV Series
Directors – many different people have taken a turn at directing an episode of Black Mirror, and in the fourth season, you can see the direction of Jodie Foster, David Slade and John Hillcoat.
Created by – Charlie Brooker
Show Runners – Charlie Brooker and Annabel Jones
Released – December 2011 by Channel 4 in Britain. In September 2015 Netflix bought the programme and its popularity grew in North America
Starring- with every episode being a stand-alone project there have been numerous actors that have appeared in Black Mirror. Some of them are :
Daniel Kaluuya, Jerome Flynn, Kelly Macdonald, Rory Kinnear, Rafe Spall, Jon Hamm, Rupert Everett, and Bryce Dallas Howard
There is a much more complete list of actors at imdb.com.
I know that I am going to set aside some time to binge on series 4 of Black Mirror when it arrives on Netflix. As Brad Miska who wrote the article, One Episode of Netflix's "Black Mirror" is a Complete Horror Anthology for bloody-disgusting.com says the episode entitled "Black Museum is [in-depth and well rounded enough] to be a complete horror movie within an episode of an anthology series!" The episode was directed by Colm McCarthy and "feels right out of the Tales From the Crypt universe, focusing on a crime museum showcasing high-tech misdeeds." (Dec. 7,2017. Miska)
I know that I will treat Black Museum with the same amount of attention that I would give to any well written and well-acted movie. Popcorn will not be consumed because I want to catch every subtle detail and bit of dialogue.
In case you don't have Netflix you can purchase the Black Mirror DVD's here.
Let us know what you think of Black Mirror TV series and happy binge watching.
Cheers,
The Other Half
Please follow and like us: