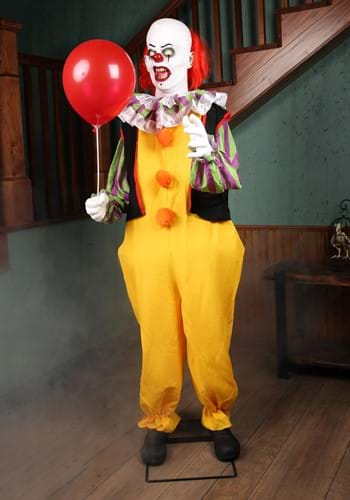 Halloween is coming and we love it. We love to have fun and be scared so All Hallows Eve is one of our favourite nights. We love to decorate and find new ways to shock the neighbourhood children. The following fellow would definitely be a chilling addition to anyone's Halloween decor.
Imagine a six-foot-tall animated Pennywise clown standing in your entryway or on your front porch! Did I mention that he is animated?
Specifications
Pennywise is 6′ tall
His eyes light up
His arms wave
He speaks selected dialogue from the movie "IT"
Includes
Head
Arms
Feet
Clown Jumpsuit
Base & Stand
Motorized Body Piece
Balloons & Holder
A/C Adapter
The Good
It is PENNYWISE! The freakiest, scariest, and most terrifying clown EVER. It would be scary enough to just "see" Pennywise but this clown isn't satisfied with that. He moves. He speaks. He has balloons.
The Bad
The A/C Adapter may not work outside of North America.
Who Would Want One?
Everyone who loves Halloween and movies.
Price
$239.99
Returns
As long as the product is:
unused
contains all pieces
is packaged properly
was purchased within 60 days ago
was purchased new
is shipped back at the expense of the sender using a trackable shipping method with delivery confirmation
use the packing slip that can be generated from the halloweencostumes.com website
you will receive a return minus an 18% restocking fee.
How to Buy?
Click here to get this animated pennywise clown and have the best Halloween prop on the block
My Opinion
Get one. Run, don't walk. Scare everyone. Okay, I give this a 99/100. The only way it could be better would be to have Tim Curry or Bill Skarsgard hang out in a Pennywise costume on your porch this Halloween.
Cheers,
The Other Half